Courses and Events in Calgary
Courses and Events in Calgary
NEW COURSES and WORKSHOPS!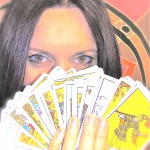 Learning Tarot is not a weekend course. It is also not so easy to learn from a book, because there are 78 cards to remember!
I believe it is more effective to learn Tarot Reading step by step. I will guide you through all the cards in a special way, so that it is easier to remember all the 78 Rider-Waite Tarot cards without being frustrated and confused. Of course, practise is everything 🙂
Let's meet once a week for around 2 hours.
You need to bring your own Rider-Waite Tarot deck, a journal and fun. Cost for each meeting 20 Dollars (we need around 8 meetings), including material.
After the course you will be able to read cards for yourself, and for your friends.
Note: The meetings has a minimum of 6 people. We start at the 4th of December, at 7 pm.
See also: Learn Tarot Reading meetup Group http://www.meetup.com/Beyond-Reiki-Calgary/events/227029052/
Contact: Email Daniela
Next Ecology of Thought course is on the 30th of November, starting at 11 am.
A new level of self-understanding and self motivation. Find answers to your questions like:
Why am I here?
Why are there people who feel better than me?
Why am I so tired and powerless?
Why is my partner so aggressive?
Why isn't my relationship working anymore?
Why can I cope with my mother better than with my father?
Why are my colleagues so underhanded?
Why do I have the same job again and again although I would really like to create something completely different?
Why do the same things happen to me again and again?
Am I chained to my destiny?
These days we hear a lot about how it is important to have positive thoughts. You might have learnt this from the book or movie "The Secret". Lots of different healing modalities say that if you just think positive, then you will change your reality! Then you will get well again!"
BUT the question for most of us is:
"HOW can I learn to have only positive thoughts?
HOW can I realize my negative thoughts?
What about the feelings connected to these thoughts?
And HOW can I transform negative thinking patterns?
HOW can I learn to think the right way?
The answer is easy: Ecology of Thought will help you!
Contact: Email Daniela